A-IDIO|鑽石手沖咖啡架(濾杯+手沖架+底座)全套組合
榮獲2019金點設計獎
A-IDIO鑽石手沖架,讓您不只是沖泡咖啡,而是享受了一個美好的咖啡時光
This 2019 Golden Pin Design Award-winning brewing stand helps you brew and enjoy consistently great coffee.
輕鬆組裝 恣意搭配。純手工製作,經過焊接拋磨,電鍍上釉處理,經過重重工序,呈現出耀眼的鑽石手沖架。
Easy-to-assemble and add components. This 100% hand-made product, from polishing to electroplating to glazing, presents a dazzling diamond hand punch frame.
精心設計的鑽石外型,為純手工製作,經過焊接拋磨,電鍍上釉處理,經過重重工序,才能呈現耀眼的鑽石濾杯。更為你帶來與眾不同的咖啡新體驗。
Original design, bright diamond shape. The carefully designed diamond construction is hand-welded, polished, electroplated and glazed, and brings you a new coffee experience different from all the rest.
體積輕巧易於保養清洗
不同於傳統的濾杯,少了底座,外型更加簡潔,並易於收納、攜帶及清洗。貼心附贈一個黑色絨布袋,可以讓你帶著它四處華麗。
Dripper is lightweight and easy to maintain and clean. Unlike traditional filter cups, there's no base to clean, and storage is easy.  Comes with a stylish black velvet carry bag.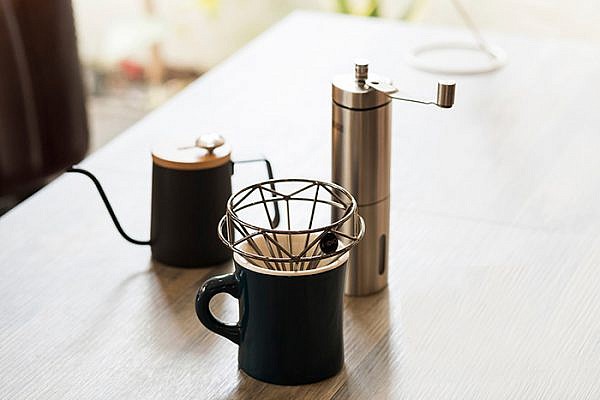 形式與功能的結合
將鑽石的造型融入外型設計,呈現出咖啡器具之美,搭配實木底座
The Dripper Base merges a beautiful form with superior functionality.
呈現出咖啡器具之美,搭配實木底座,可沉穩的承載各式濾杯適當的高度,延長了咖啡與空氣接觸的時間,讓咖啡的風味更甘甜更完整。
Its solid wood base stably holds various filter cups at an appropriate height, prolonging the time that the coffee stream is in the air, making its flavor sweeter and more complete.
流速穩定 順暢不堵塞
濾杯採縷空設計,沒有傳統杯壁的束縛,可以讓香氣釋放自如,不會造成堵塞,流速穩定使得咖啡的萃取更為均勻。當然所沖泡出來的咖啡,香氣和果酸鮮明,口感清爽舒適 。
Stable, smooth, clog-free flow
The hollow design filter cup allows the coffee aromas to be released freely without clogging, and insures a stable, steady flow rate, making coffee extraction more uniform, and the taste more refreshing and comfortable.
手沖、冰滴兩用架
準備兩個濾杯,一個置放手沖架上面;另一個置放在下接壺上方。然後分別在濾杯中放置冰塊及咖啡粉,就是一組簡易的冰滴咖啡架。
Perfect for Cold Brew
Place on filter on top of the hand rack and other resting on the pot. Then put ice cubes and fresh ground coffee in the filter cup respectively, to create an ideal cold brew process