A-IDIO|手沖咖啡隨行組-鈦金版
一款最輕巧、恣意搭配,且富有設計感的手沖咖啡組,讓您不只是喝杯咖啡,而是享受了一個美好的咖啡時光。
輕鬆拎起,不論外出旅遊,、訪友、辦公、居家。皆能隨時隨地的架起咖啡的儀式感,享受一杯香醇好咖啡。
所有的裝備包含:
* 人文手沖壺-鈦金版
* 精工磨豆機
* 鑽石濾杯-鈦金版
* 鈦金密封罐
* 玻璃壺360ml
* 專屬旅行袋
* 溫度計
* 清潔刷

贈品: V60濾紙-*100張
read in english
A-IDIO|Hand-made Titanium-plated coffee brewing and accessory kit. A hand-made coffee set utilizing the lightest, versatile, aesthetically and functionally matched components. This kit allows you to prepare barista-quality coffee with ease anyplace. Totally portable, suitable for travel, visiting friends, working, or at home. Take that sense of coffee ceremony with you anytime, anywhere…AND enjoy the result––a delicious cup of coffee
Included Components:
Ergonomically crafted, hand flushing titanium-plated pot
Precision Hand Grinder
Titanium-plated Diamond Dripper
Titanium sealed Cannister
360m Glass jug l
Exclusive travel bag
Thermometer
Cleaning brush
Special Gift: 100 sheets of V60 filter paper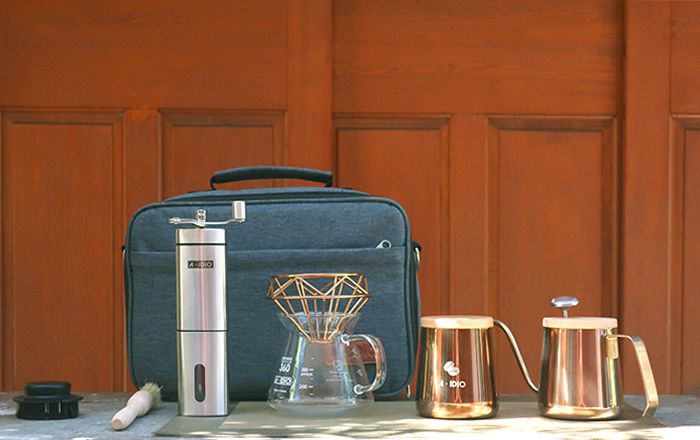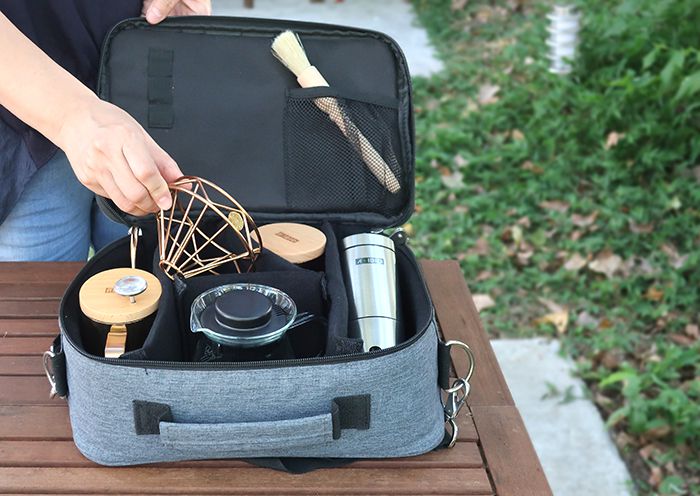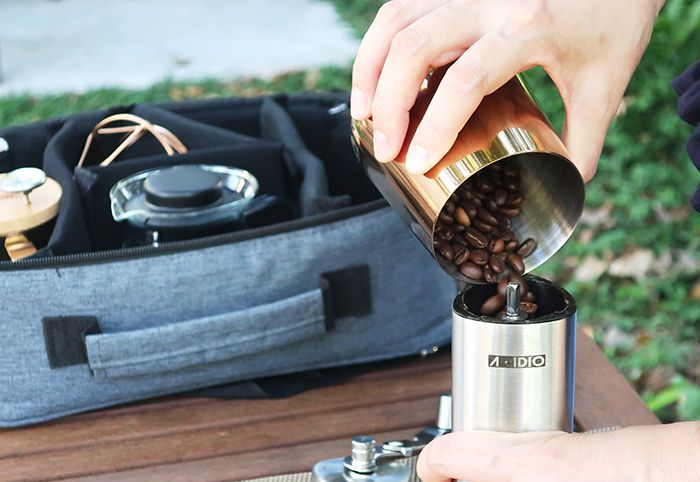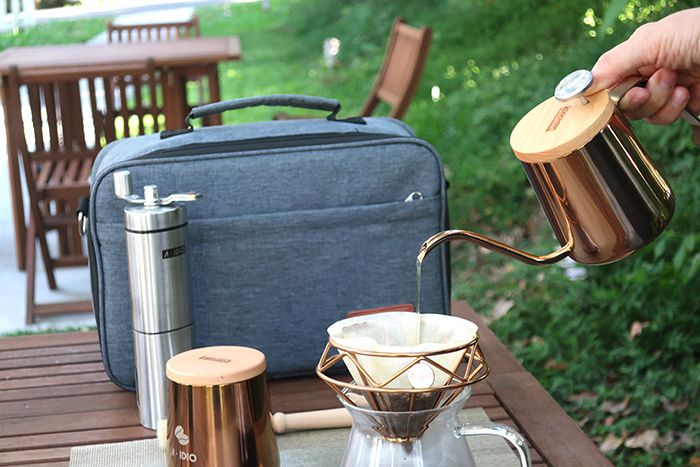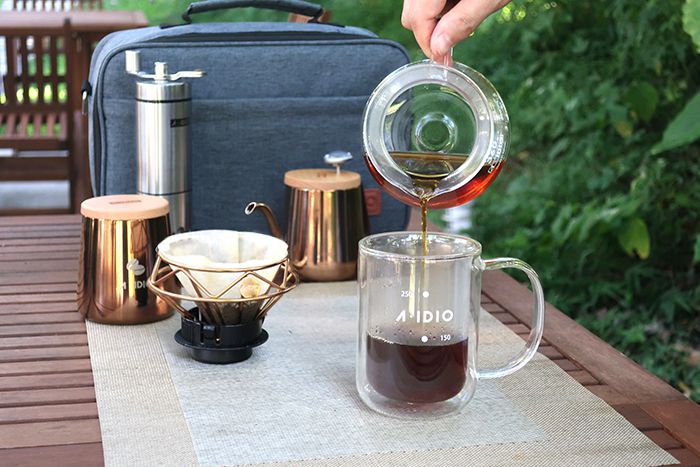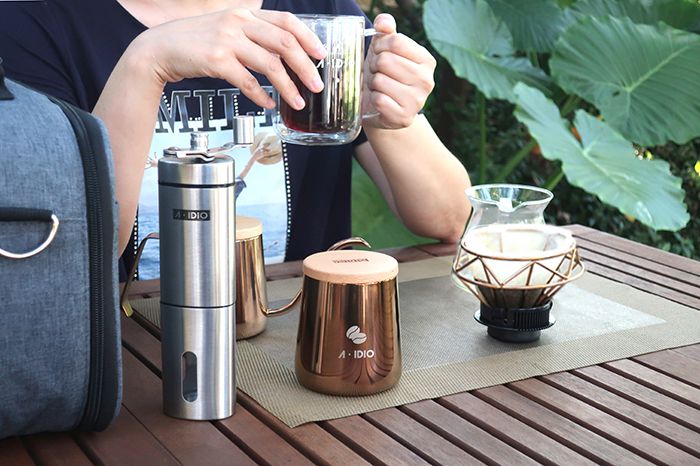 我們的隨行組包含以下配件:
Our travel set features the following accessories: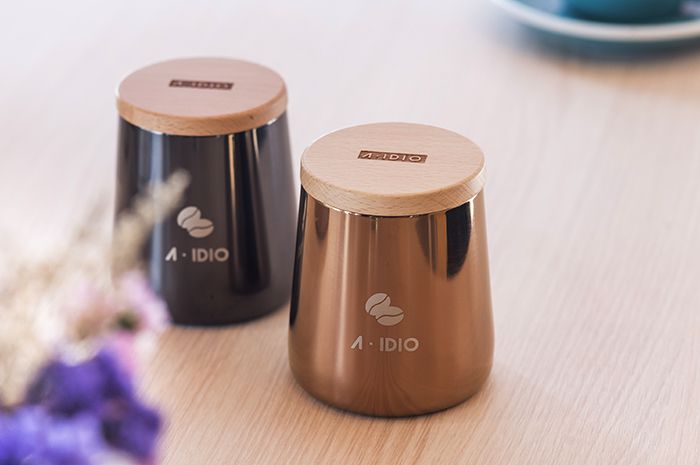 💎 A-IDIO 鈦金密封罐
將自己喜愛的咖啡豆研磨成粉後,倒入鑽石濾杯中
靜靜地將熱水緩緩注入、滴濾,空中瀰漫著咖啡香氣。
兩三分鐘後出杯,即可擁有一杯香醇的咖啡。或獨處、或好友相聚
給你最美好的咖啡時光
Grind your favorite coffee beans, kept fresh in our titanium-plated silicon sealed cannister;
Measure into our patented diamond filter dripper. Boil your water in our personal-size pot,
pour and watch a perfect stream of coffee drip quietly into our serving beaker, as the aroma
of fresh coffee fills the air. After two or three minutes, you have a cup of fragrant coffee.
Enjoy the ritual alone or with friends. A-IDIO gives you the most perfect coffee time.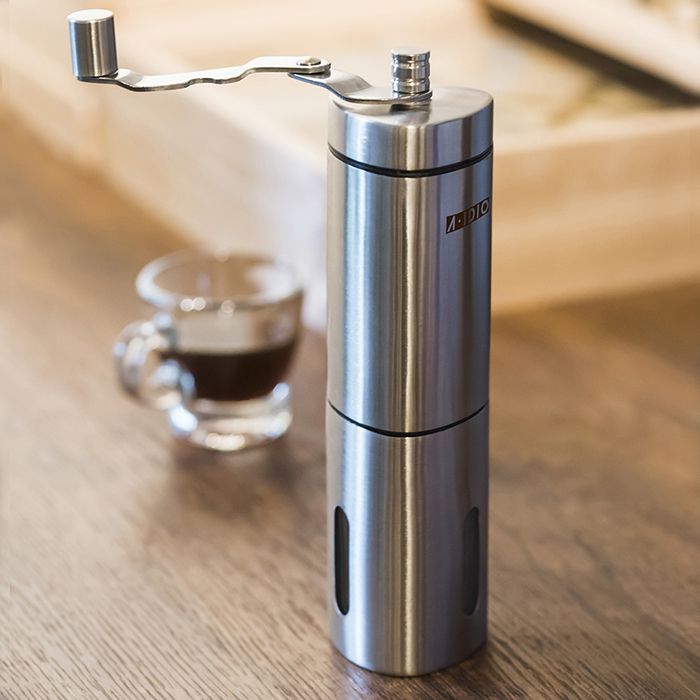 💎 A-IDIO|精工磨豆機
採用圓潤三角造型,握感服貼,讓你研磨咖啡時更加輕鬆。
傳動式轉軸設計加上精密陶瓷磨芯,軸心不晃動,粉粒均勻少細粉。
無段式調整粗細,從細粉的義式咖啡到較大顆粒的精品咖啡,都可磨出你喜歡的顆粒。體積小巧,手柄可折疊伸縮,方便攜帶及收納。
Aesthetics married to function! This airtight jar, tightly seals the ingredients inside, while displaying elegance and grace.
The titanium-plated outer surface displays a deep, natural luster, while resisting scratches wear, and corrosion.
Combined with its warm wood cover + silicon gasket , it blocks the air and light, keeping your beans fresh.
Lightweight, it presents museum-quality display on the outside––but it's your coffee enjoyment that benefits most.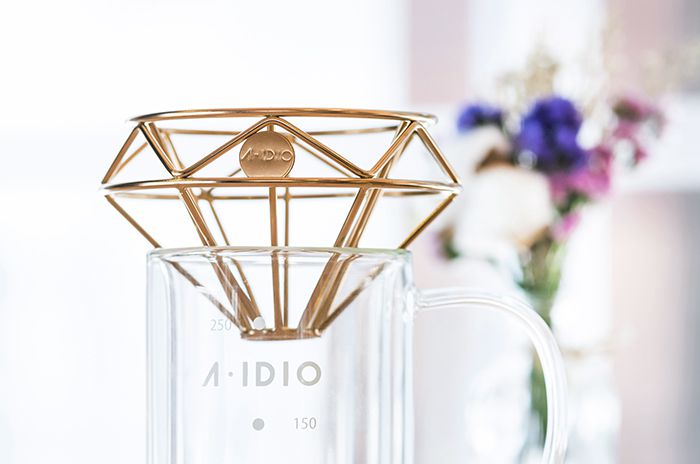 💎A-IDIO|鑽石咖啡濾杯(鈦金版)
璀璨的鑽石外型,放在咖啡架上或是任何高、低杯口上都適合。在用與不用之間,都像鑽石般讓人陶醉。
縷空架構,少了傳統杯壁的束縛,香氣釋放自如不堵塞,而流速卻是出奇的穩定,能讓咖啡均勻的萃取,沖煮出咖啡的純淨風味。
手工精心製作,表面鍍鈦處理,並具有鈦金獨特的效能–高硬度、耐刮耐磨、抗侵蝕。兼顧實用與美學。
Space-saving, easy-to-carry "no base" design with unique, attractive diamond shape
Fits most cups and pots without any external support needed.
Open, breathable design allows air flow through, eliminates clogging
Titanium hand-plating provides wear-resistant/corrosion-resistant surface.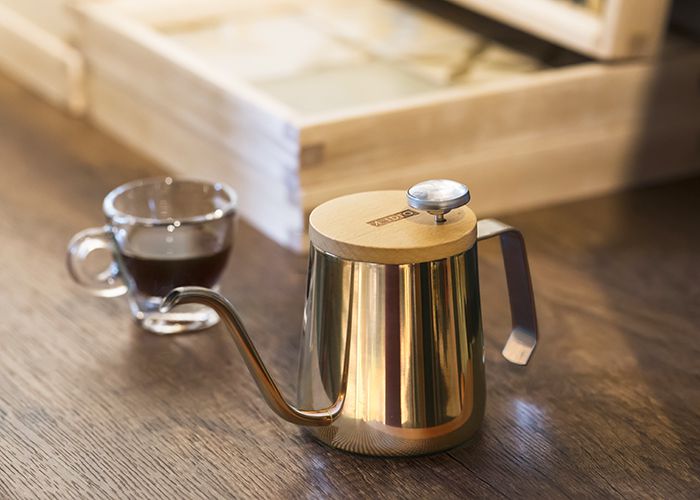 💎 A-IDIO|人文手沖壺350ml(鈦金版)
有溫度的手沖壺,沖泡出一杯好咖啡。
350ml的容量適合1-2杯使用。搭配專業的溫度計,可在適合的溫度沖煮你想要的咖啡。
手把設計符合力學好握拿,可輕易的控制水量及讓水流柔細,無論是初學者或職人都很容易上手。
表面鍍鈦處理,呈現出深邃而沉穩的光澤;搭配櫸木壺蓋質感溫潤,整體美感高貴典雅,充滿人文咖啡之氣息
This easy-to-hold, elegant titanium plated pot makes one or two great cups of coffee.
The deep and steady luster of the scratch-resistant, corrosion-resistant titanium surface is complimented by a warm, elegant beech wood lid
The ergonomic handle design easily controls water flow for beginners and professionals alike, creating an enjoyable coffee-making experience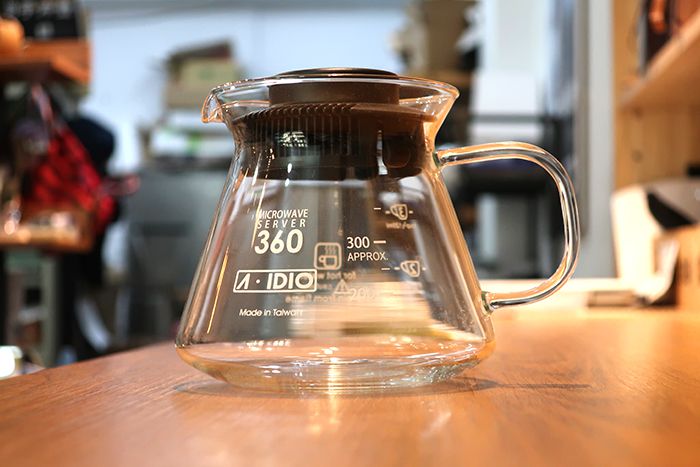 💎 A-IDIO 耐熱玻璃壺(360ml)
高透視度,耐熱玻璃材質,可直接透視沖泡過程
玻璃無毛細孔的特性,煮出飲品原味
玻璃清透晶瑩,質感高雅,容易清洗,味道不殘留
壺蓋巧設濾柵,輕鬆過濾茶葉,花草之葉渣
Heat-resistant pore-less glass material lets you directly see the brewing process,
while preserving the original taste of your drink of choice. 
Elegant design, easy to clean, + no smell.
Pot cover is equipped with a grid that easily filter tea leaves and leaves of flowers and plants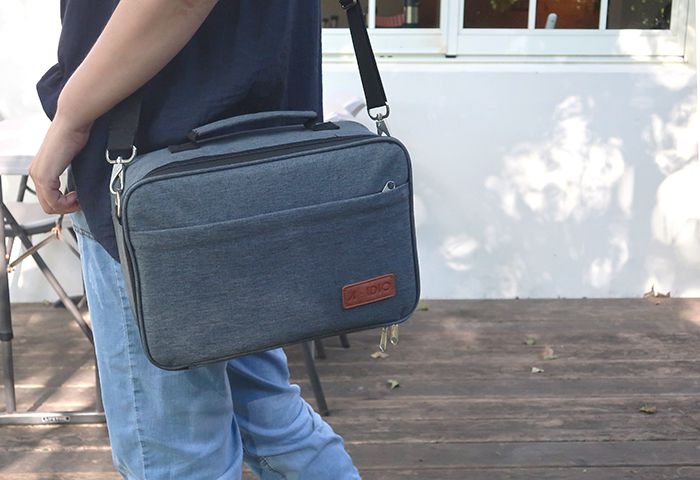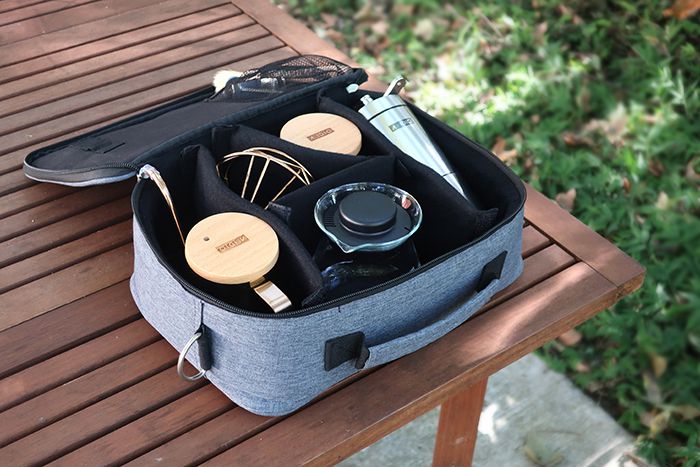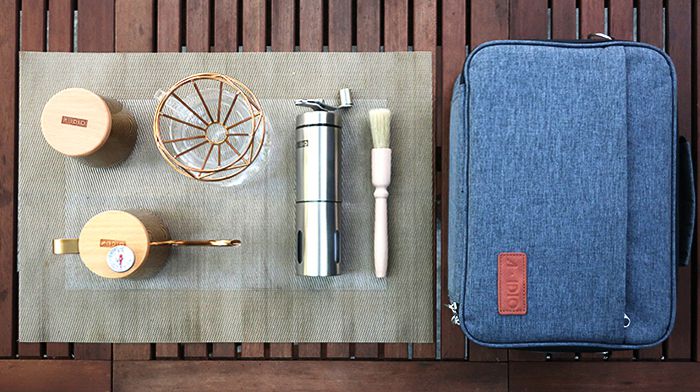 💎A-IDIO|行動咖啡旅行袋
現在就讓我們將以上的咖啡器具全部放入A-IDIO咖啡旅行袋中。
整體簡約俐落,隱藏式拉鍊袋,可放置濾紙或其他小物。
可拆式隔板,彈性收納,所有配件器具井然有序
外層加強厚度,內部鵝絨布,悉心保護您的物品
肩背、斜背、手提皆可用,讓您方便攜帶,也讓旅途中的咖啡都變得精緻起來。
Mobile coffee travel bag is attractive, easy to carry, and specially designed to fit 
all of the above accessories in dedicated compartments. 
Simple and neat, a hidden zipper bag, can be used for filter paper or other small objects.
A detachable partition provides flexible storage for all accessories.
Reinforced outer layer adds strength, while inner goose down cloth carefully protects your belongings.
It can be carried on the shoulder, cross-body, or hand-held. The ultimate, refined "coffee on the road" experience!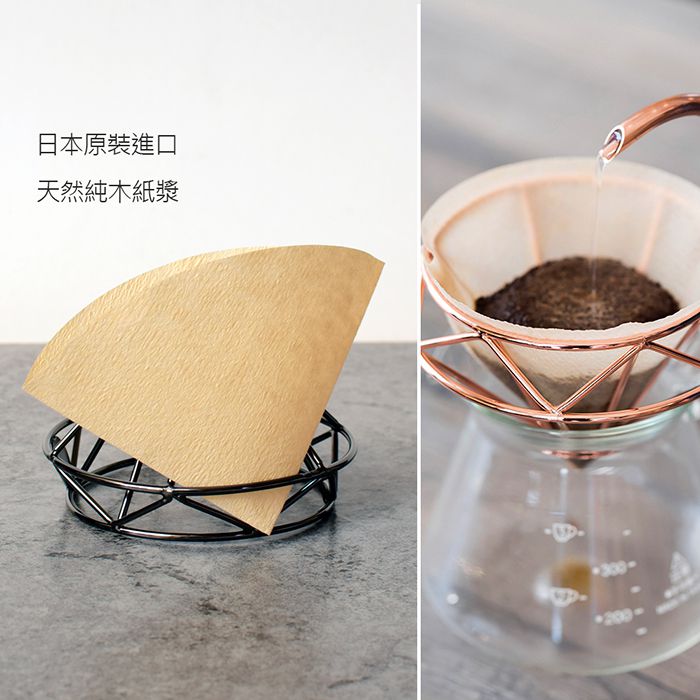 再送您:
日本進口三洋濾紙100張
Extra bonus: Includes 100 sheets of Sanyo filter paper imported from Japan